January 26th – January 31st 2020
Limited 4 photographers
Photographing the curious and charming arctic fox is one of the most enduring joys for any nature photographer. Join our small group of photographers for this exclusive trip to the stunning Westfjords region of Iceland. Very few photographers have the opportunity to experience the remote Hornstrandir Nature Reserve and bring back the images of a lifetime. This trip will give you unmatched access for 6 days and 5 nights where you will have the unique opportunity to work closely with the arctic foxes of the valley along with possible northern lights.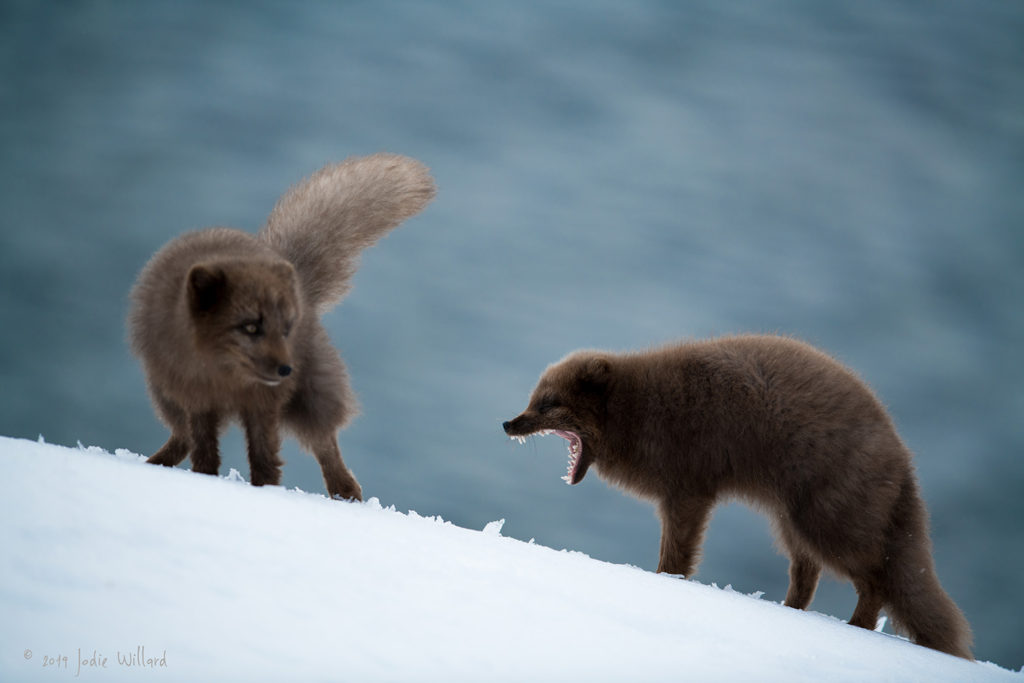 ---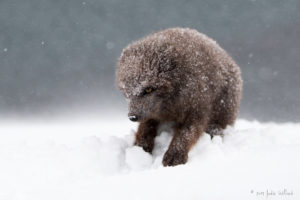 The white morph arctic fox as well as the "rare" blue morph fox can be found in the valley. Because the arctic foxes are totally protected in the reserve area, there is a higher density of arctic foxes around to photograph. There are a few dens in the valley and in the surrounding landscape, so you don't need to venture to far to spot their tracks. We often spot them fighting and playing around in the snow and on the rock beach. You will find the foxes shy but curious with you and each other, making for wonderful opportunities for up-close photos and well as landscape and environmental fox photographs. Past experiences and proven to have the foxes within yards of the farmhouse, as well as within the mountainous hillside.
---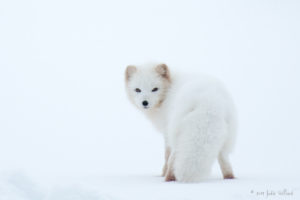 About the Foxes
The arctic fox is an incredibly hardy animal that can survive frigid arctic temperatures as low as –58°F (-50°C) in the treeless lands where it makes its home. It has furry soles, short ears, and a short muzzle – all important adaptations to the chilly climate. Arctic foxes live in burrows, and in a blizzard, they may tunnel into the snow to create shelter. Arctic foxes have beautiful white (sometimes blue-gray) coats that act as very effective winter camouflage. The natural hues allow the animal to blend into the tundra's ubiquitous snow and ice. When the seasons change, the fox's coat turns as well, adopting a brown or gray appearance that provides cover among the summer tundra's rocks and plants.

---
You can also expect to see a variety of other animals in the area ranging from eider ducks, ravens, Iceland gulls, as well as other birds. In March 2019 there were about five arctic foxes in the area. I personally photographed two different pairs in the valley and around the
farmhouse. I hiked over the ridge and found another pair, one white and one blue. I also found the foxes traversing the area daily looking for food along the banks and resting on the hillsides. We are nestled along the coastline which is a prime area for food. Please remember this is
wildlife and I cannot guarantee mother nature in terms of weather or wildlife sightings.
Trip Details
Our trip starts January 26th at 10 am and ends February 1st around 5 pm, weather dependent.
Meeting location: Ísafjörður, Westfjords, Iceland
Isafjörður is a town in the Westfjords region of northwest Iceland which is known for its dramatic landscapes and centuries-old fishing village
Flights to Isafjord:
Flights can be booked with Air Iceland with daily flights from Reykjavik. The flight is around one hour. Due to possible weather I would recommend arriving a day or two early.
Boat Ride:
The private charter boat holds 18 people leaving us with plenty of room for our gear etc. The 1.5-hour boat will take the group to farmhouse where we will be dropped off by zodiac.

Farmhouse:
We will stay in a remote 1900's homestead farmhouse in the Hornstrandir Nature Reserve, Iceland. The farmhouse although rustic was refurbished several years ago and is fully functional, clean and warm. Breakfast, lunch and dinner will be served by our host, caretaker and cook extraordinaire. The farmhouse is located on a small hillside overlooking the open ocean, where you will find the arctic fox hunting for food. This hill also provides an extraordinary vantage point for viewing wildlife in the area. For years, an arctic fox family has had their den near the farmhouse. The farmhouse is remote there is no cell coverage or internet. There is an emergency satellite phone available. Power is provided by a generator.
Amenities:
Wood-burning sauna
Warm shower
15 made up beds with down duvets
Solar power
6 rooms
220V for charging
Zodiac for transport
Living room for good times
Delicious food
Drying and storage room
Heating system
Toilet facilities
Daily Itinerary:
Day 1 – January 26th: We will meet at 10 a.m. at as a group then transported by van to the local non-profit Arctic Fox Center where we will learn about the history and behavior of the arctic fox. After an hour or so we will be transported back to town where we will have lunch and gather our bags for transport to the dock. The group will board the private boat for our
afternoon departure. Once we arrive, we will be transported in two groups by zodiac to the farmhouse (about 100 yards from shore) where we will be bringing our bags and supplies up to house and get settled in. There should be a few hours of light left to photograph the foxes. In the evening we will look for the northern lights.
Day 2-5: The next four days will be spent tracking and photographing the arctic foxes, as well as capturing images of the surrounding landscape and northern lights. There will be about six to seven hours of light each day. Sunrise will be around 10:00 am. and sunset around 5 p.m.
Day 6: The final day will be spent finishing your last photographic list with a boat pick-up around noon depending on the weather.
Weather:
The weather in the northwestern Fjords Iceland could be a bit of everything ranging from thrilling thick snow storms and dramatic light and everything in-between. The temperature can dip as low with the average temperature in late January being 20 to 30°F (-7 to -1°C).
Hides or Snow holes:
Depending on the amount of snow, we might want to dig snow holes and hunker down. Lighter color clothing is recommended. The longer you can stay out, the better the opportunities are to get those special unique shots.

---
Price:
The expedition is $4500 USD per person with single rooms. Initial deposit is $1500 USD due upon registration. Balance due 90 days prior to expedition date. Due to the short notice of this trip the deposit is non-refundable. If using a credit card or Paypal a 3% service fee will be required.
Included in the price:
• One-way boat transportation to the Lodge at the start and end of the trip.
• Five nights of lodging
• All food and drinks (no alcohol)
• Accommodation in made-up beds
• One caretaker/cook
• Full use of the house facilities
Not included in the price:
• Alcohol beverages
• Personal insurances
• Travel to and from Ísafjörður
• Taxis and hotel in Ísafjörður
Trip Insurance
It is mandatory that you obtain travel insurance in the event of an emergency or illness.
Deposit
$1500 due upon receipt of registration

Payment Page
Click here for payment process
Payment options: Paypal Credit card processed through paypal, Check or Wire Transfer.
Participant Form
Due upon Registration
Click here for PDF 
Waiver Form
Due upon Registration
Click here for PDF