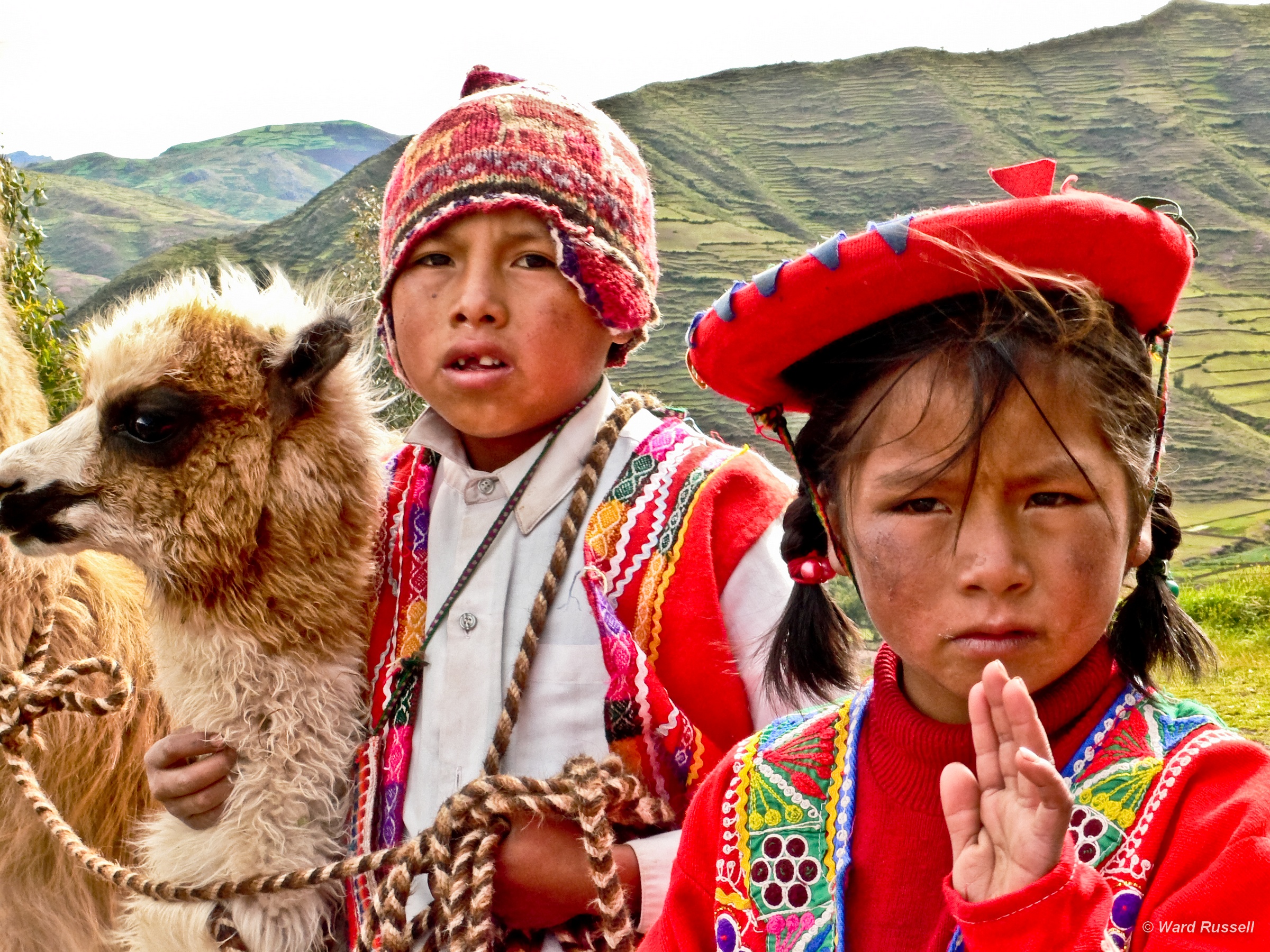 Join two respected creative professionals on the adventure of a lifetime in Peru. Profession-al archaeologist Ron Winters, who has worked extensively in Peru, and renowned photog-rapher Tony Bonanno, who has led dozens of photo travel adventures, join forces to guide you through the historic and visual highlights of this culturally and visually rich country. This ten-day itinerary will take you from the coastal plain to the high elevations of Cuzco and Lake Titicaca.
Highlights
Your adventure begins in the capital of Lima, where you will receive a personalized tour of the cultural treasures in the National Museum by Ivan Ghezzi , (Yale University educated ar-chaeologist) and capture the colonial architecture with your camera.
Continue your adventure with a flight to Trujillo, a less touristed colonial city surrounded by Moche and Chimu archaeological sites, including coastal Chan Chan (the largest adobe city in the world, and the largest ancient city in the Americas), Huacas del Sol y de la Luna (a Moche ceremonial complex).
Fly to Cuzco, the cultural gateway of Peru, and continue straight to the Sacred Valley below the city, including the ancient fortress of Ollantaytambo and the colorful market at Chinchero, a small Andean village.
Spend a rarified night at the only hotel within view of Machu Picchu, which was discovered by Hiram Bingham from Yale in 1911, and has become a World Heritage site and one of the most visited tourist sites in the world. You will stay in the exclusive hotel on site, so you can capture this magical place in the light of sunset and sunrise, beating the daily crowds who arrive by train.
Return by train to Cuzco, where Ron will lead tours of the Museo Inca and the Museo de Ma-chu Picchu and the ancient ruins surrounding the city. Tony will provide photographic tips while leading us through the bustling, cosmopolitan city built atop ancient Incan ruins, high-lighted by Baroque architecture and the captivating Andean people who live and pass through the city.
Continue to Lake Titicaca, the largest lake in South America and the highest navigable body of water in the world, home to a unique highland culture based on surreal floating islands crafted of totora reeds.
During the trip, Tony will conduct instructional sessions on composition, light and color, and tips for capturing the Peruvian culture and landscapes in a way that realizes your photographic vision. Tony will bring a notebook computer and will be available for individual review sessions with each participant. Meanwhile, Ron will share his deep knowledge of the ancient culture of Peru, as well as fascinating facts and stories about the archaeological profession and his four field seasons in Peru.
Travel Details
An intimate group of likeminded travelers, ensuring personal attention and a harmonious ex-perience. Maximum 12 participants.
All internal flights, train travel, and transfers included. Participants are responsible for their own travel to our departure point of Lima, Peru. The program begins with accommodations the night of April 25th before convening the morning of April 26th in Lima.
Nine nights accommodations in solid 3-star hotels chosen for their local charm. Plus one unfor-gettable night in the luxurious Belmond Sanctuary Lodge, operated by Orient-Express and providing unfettered access to Machu Picchu.
All breakfasts and two group dinners.
Entrance fees for all planned tours and activities.
$5500 per person double occupancy, +$700 single supplement
Who should come: Both photography and archaeology enthusiasts, as well as those who simply wish to learn more about the Peruvian culture and its rich history, archaeology, and ancient treasures. All levels of photographers welcome, from beginner to advanced. Partici-pants should also be in reasonably good health and able to negotiate the steep steps of ancient sites. Altitude can also be an issue in Cuzco and Lake Titicaca (12,500 feet).
Your Guides
Ron Winters holds a Masters De-gree in Archaeological Studies from Yale University. He has over 24 years experience in field ar-chaeology, including four excava-tion seasons in Peru. During the year, he runs an archaeological compliance firm in Santa Fe.
Tony Bonanno is an internationally renowned professional photogra-pher based in Santa Fe. His sub-jects range from the President of the United States and the first lady, to indigenous peoples and their cultures. Tony has led nu-merous photo workshops both domestically and internationally
For more information contact:
Tony Bonanno at tony@bonannophoto.com, 505-466-0020 or
Ron Winters at rondigs@comcast.net, 505-670-6952.